My contribution
This section is for those who, in their working lives, would like to understand more about their impact on the health and wellbeing of others and how to take this further, possibly developing into a career.  
Ask yourself:
Are you interested in improving the health and wellbeing of those around you?

Do you have an opportunity in your current work to make a real difference to those you are in touch with?
Public health is about helping to improve the health and wellbeing of people. It is also about helping to protect people from potential harm.
Many people make a contribution to the health and wellbeing of others in their daily lives without realising it. This may be as a carer, a volunteer, part of a workforce not traditionally directly associated with health and wellbeing such as teaching, urban planning, or as a chief executive of a charity.
We all know that we are facing serious health and wellbeing issues and widening health inequalities in society, whether it be around obesity or climate change. By understanding our potential health role more consciously, we could together make a huge difference.
For example:
What could a community volunteer delivering meals on wheels to elderly and disabled clients do (with extra training and support) to help improve their clients' health and wellbeing by providing information on local support services or help and advice with diet and exercise?
The diagram below nicely illustrates the influences on health within our everyday environment and who might make a contribution in their everyday roles.
A sample of workforces with the potential to influence determinants of health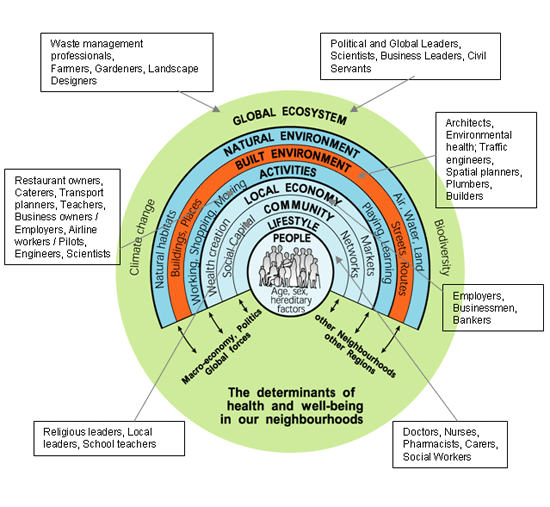 The Health Map. Barton & Grant 2006
Based on a public health concept by Whitehead & Dahlgren. The Lancet 1991
---